As families head off for college visits over Presidents' Day Weekend, there will be much to see and hear. Botanical gardens, majestic mountains off in the distance, and brand new dorms will garner oohs and aahs. But as much as students want to fall in love with their surroundings, colleges still need to deliver a first class education and prospects for the future.
Here are the six most important things to ask when you visit campus:
1. Does applying for financial aid hurt my chances?
If a family will be applying for need based financial aid, they should ask if their need is met 100% for all four years. If it's not, there's a chance that the college will provide a strong aid award only for freshman year. Families should also learn if applying for financial aid will put the student at a disadvantage in the admissions process as some colleges use this as a determining factor. In addition, merit scholarships can make college more affordable. Knowing how to apply for scholarships and who ultimately gets them will help a family decide if it's viable.
2. What is the average class size and student to faculty ratio?
When a student is struggling with the material or is looking for a mentor, they turn to professors. But if the classes are so large or the faculty is inaccessible, students may not have the support they need. Size often matters as smaller schools tend to have lower student to faculty ratios.
---
Interested in a deeper dive on college visits and demonstrated interest?
Watch Sara's Facebook Live Q&A!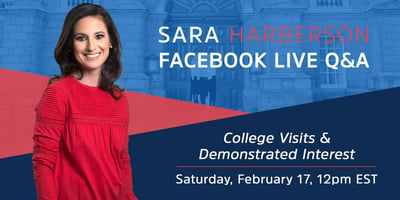 ---
3. What is the retention rate?
Retention rates matter! The retention rate refers to the percentage of students who return after freshman year. It reveals a lot about student satisfaction, academic support, and financial aid. Colleges with retention rates in the 90+% range typically have longstanding initiatives in place for retaining students and keeping them happy.
4. What is the graduation rate?
Graduation rates are critically important. Four year colleges are increasingly more expensive. When the student needs an extra semester or year, the financial and personal cost can become formidable. A high four year graduation rate demonstrates the college's commitment to graduate students in a timely and effective manner.
5. How good is job placement for graduates and what are graduate school acceptance rates?
If families are going to take on the high price tag of tuition, they deserve to know what they are getting in return. High job placement rates not only reflect a strong career center on campus, but also indicate the clout that the college or university carries with employers. Similarly, acceptance rates to professional schools should be readily available when you visit.
6. When and how should I apply?
Admissions officers will paint a grand picture in broad strokes regarding who gets admitted. Don't just settle for an overall admit rate! Ask what the admit rates are for the Early Decision/Early Action round versus the Regular Decision round of admissions. Often, there is a significant difference in the admit rates, and knowing this will help a student determine how and when they should apply.
"If you want to determine whether you should apply Early Decision/Early Action or Regular Decision, ask about the college's admit rates for each." TWEET THIS
Some of this information is offered on a college's website, or it's shared during the campus tour or information session. But if this information is difficult to ascertain, the college may not track it, or worse yet, may not want this information for public consumption. Families will experience the visual feeling of a college by visiting campus, but knowing the hard facts is even more important. This ensures that the decision to apply (and ultimately enroll) is not just guided by appearances, but clear policies and offerings that will benefit the student.