Just this week, one of my students asked me if they should write their main college essay about being a first-generation American when so many others have written about this topic already. While I always tell students to avoid the common topics, this one never gets old for me, for admissions officers, and for any American who has a heart.

The humanitarian crisis
coming out of Afghanistan
is a reminder of why the immigrant story is so moving. I have heard thousands of immigrant stories as a child growing up in an immigrant household and community, and being on the receiving end of hundreds of thousands of college essays.
There is not one immigrant story that is the same as the next.
One could argue that a first- or second-generation American does not have direct, personal experience being an immigrant, and thus their college essay might not be as powerful. Nonsense. All of us who have or had an immigrant parent or grandparent have been personally influenced by them. It shapes who we are. And it is our responsibility to share that story, that motivation, that tougher-than-nails exterior.
My mom was an immigrant. I know very little about her story. What I know is heart wrenching, just like the pictures coming from Afghanistan. My mom came to the U.S. as an infant after she and her family were released from a displacement camp in Germany, following the Holocaust. I know that she had nothing when she arrived here. And within a few years, she was living with her aunt and uncle in the back of a convenient store/gas station in a small farming village made up of immigrants like her.
If I could go back to my senior year of high school, I would have written my college essay on my visits to the gas station as a young child
when my mom's aunt and uncle were still alive, and then as a young adult when there was nothing but an abandoned street corner where my mother grew up.
I remember the grease of the gas station. I remember how I could yell from the gas pumps to the post office/deli across the street that my cousins' grandparents managed. I remember eating wonderfully nostalgic Kosher salami sandwiches on a big kaiser roll with a glass bottle of Coca-Cola in my great-aunt and great-uncle's shop. I remember one day when my cousin made me laugh so hard the salami and soda came out of my nose. I remember how, no matter what, my mom would drop everything the moment she arrived at the gas station to pump gas the way she had always done.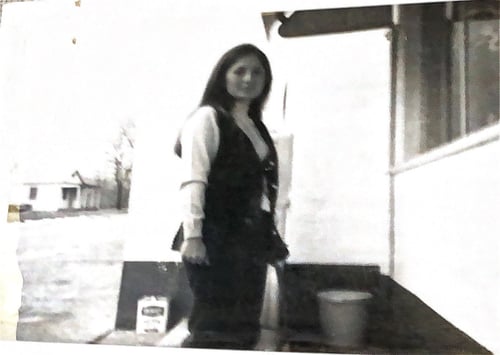 Her hands were greasy. Sweat beating down. Her immigrant story—still taking place decades later for her. I may not have said anything to my mom in those moments, but I admired her so much. The gas station continues to keep me humble decades later, especially when my ego gets ahead of me.
While my life hasn't had the grease that my mom's had, it's been passed down with pride. That grease has given me a lot of traction to push through boundaries, stereotypes, and more doubters than I can count. The gas station no longer remains, but the grease is still with me in the best possible way.
For all the high school seniors still struggling with an essay topic, don't overlook the most important story of your life.
If you are an immigrant, a first- or second-generation American, or someone with roots that are far from perfect, share it with pride. Even if you haven't given that part of your story its moment just yet, there is no better time than now.
---